Low-Carb Keto-Friendly Chicken Bake
I had a vision one night of this Keto Chicken Bake and I made it happen two days later, after I grabbed a rotisserie chicken from, you guessed it, Costco. Since starting following a Keto way of eating, and cutting out gluten, I feel great, but sometimes I just feel like I want a pizza or something in the bread family. And a who doesn't love to polish off a Chicken Bake after a long shopping excursion at Costco? Now, you can enjoy one, even after you've given up gluten! Matt said he wouldn't have known this wasn't bread had I not told him. And Cora enjoyed her whole slice even though she "dislikes" bacon! Sigh
Anyhoo: Enjoy. I would love to know what you think of the recipe.
I took a shortcut and cut up half of a rotisserie chicken. But you could bake a few chicken breasts or chicken thighs, lightly salted and coated in olive oil. Then chop or shred. Having that already shredded from another meal, would be an ideal time-saver.
Filling
4-5 bacon slices, uncured, nitrate-free
8-12 ounces chicken, baked and chopped (I used one half of a rotisserie chicken - breast, thigh, and leg - also, I have used up to about 16 oz chicken)
2 cups mozzarella, shredded, (plus more for sprinkling on top)
1/2 cup parmesan cheese, shredded (plus more for sprinkling on top)
1/4 cup Homemade Keto Caesar Dressing, plus a little more if needed (recipe included)
Fathead Pizza Dough
1 3/4 cup Mozzarella Cheese, shredded
3/4 cup Almond Flour
2 T cream cheese
1 egg
Homemade Caesar Dressing
3 cloves garlic, minced
1 1/2 tsp coconut or liquid aminos
1 tsp Worcestershire sauce
1 1/2 tsp Dijon mustard
2 T fresh lemon juice
3/4 cup mayonnaise (either homemade or something like Primal Kitchen Mayo)
Salt and pepper to taste
Prep the Caesar Dressing:
Mix all ingredients in a bowl until well incorporated and smooth. Alternatively, you can add all ingredients to a small blender or food processor. This makes more than you need for this recipe. You can use for dipping and/or place extra mayonnaise in a jar and refrigerate.
Prep the filling:
Preheat the oven to 400. Line a baking sheet with aluminum foil and lay bacon slices on foil. Bake the bacon until crispy, approximately 15-30 minutes, depending on the thickness of your bacon. I use thick cut bacon, and turn it over at 15 minutes and then check again after 10 minutes. Remove from oven, drain on a paper towel and cool. When cooled, chop bacon into 1/2 inch strips. Chop or shred the baked chicken. Set both aside.
Turn oven to 425.
Prep the dough:
Mix the shredded cheese, almond flour, and cream cheese in a large bowl and stir to mix the almond flour with the shredded cheese. You can add the cream cheese in small chunks, but honestly, I'm lazy, and simply add in the 2 T. slab and leave it be and it still works fine. Heat in the microwave for 1 minute. Stir. Heat in the microwave for another 30 seconds. Stir until mixed well.
Add in the egg and mix until the egg is incorporated. For me, this involves stabbing the mixture over and over again (preparing for self-defense class) with my rubber spatula and then every so often stirring it all together. Eventually, this will get the egg fully incorporated, and miraculously turns into a ball of dough! It's amazing! It will remain a bit gooey, and you will have some dough stick to your hands. (Note: I haven't yet tried to grease my hands down a bit, but it's on my "remember to try" list, if I can ever remember it beforehand. If you try it, let me know how it works out for you.)
Line a baking sheet with parchment paper. Carefully, press the ball of dough into a large rectangle. This will take some care and effort. It's a little more delicate than regular pizza dough. Just take it slow and fix any holes that might appear.
Spread the mayonnaise onto the dough, leaving 1/2 inch border around the edges. Spread the chicken down the center of the dough. I fill about half the rectangle with filling, leaving 1/4 of the dough free on each side to fold up. Sprinkle the bacon, both cheeses over the chicken. You can add a little more caesar dressing on top of the filling if you'd like it a little creamier.
Gently fold one long side over the filling. Gently fold the other long side up over the filling and press the edges together to close. You can either simply pinch the short ends together, or fold them up and pinch together.
Lightly sprinkle mozzarella and parmesan over the top of the dough.
Bake for approximately 12-15 minutes, until the crust is nicely browned. Remove from oven and allow to cool a few minutes before slicing!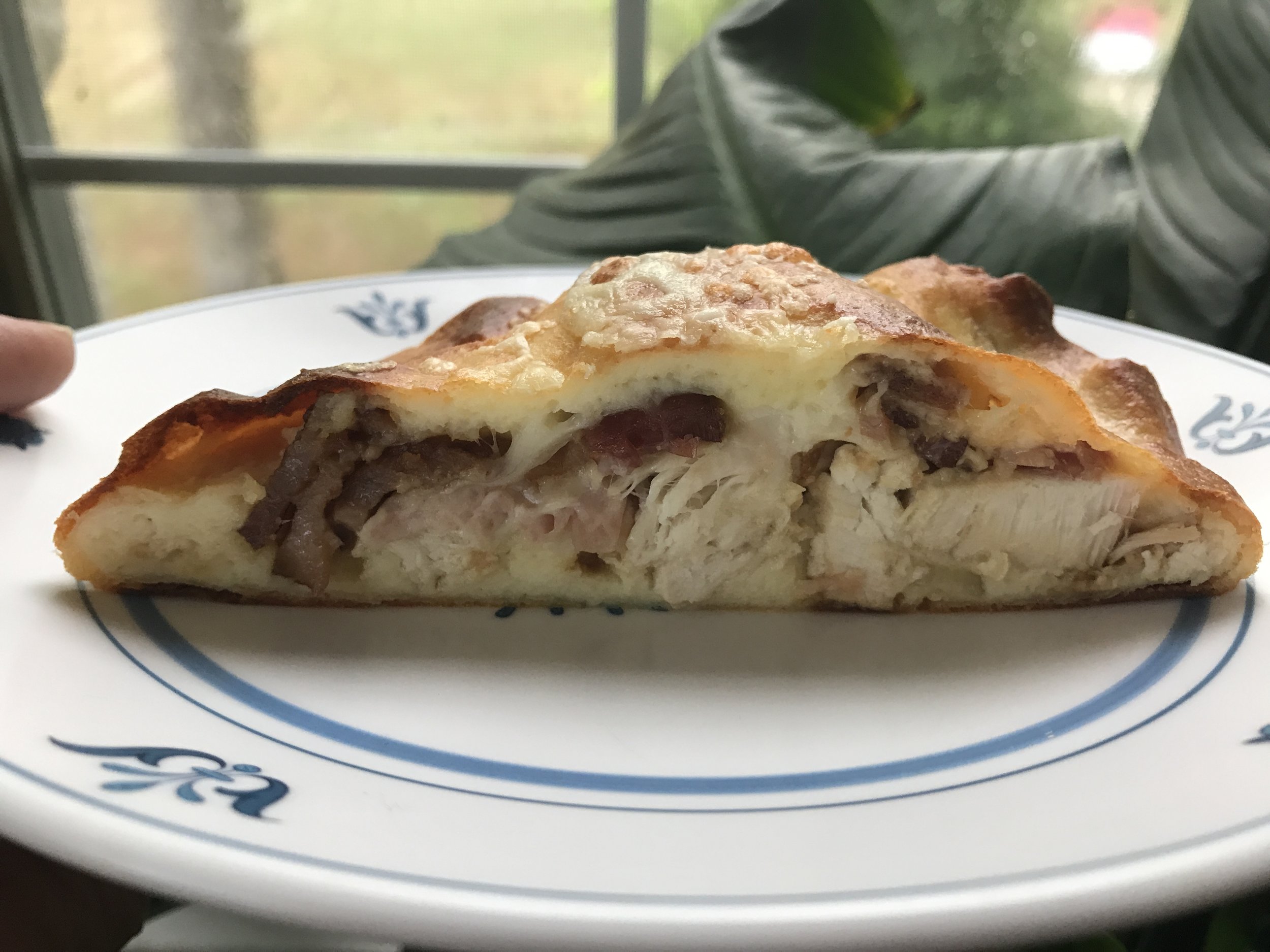 Enjoy. Serve it to your family without telling them it's faux chicken bake and see what they have to say. Please let me know how your family likes it.